Designing Tallulah – The love of Rough cut gemstones.
My very first collection was Tallulah, this collection was conceived nearly ten years ago.
At the time I knew I wanted to work with stones and try my hand at designing, but really didn't want to just follow the trends. It was while trawling the stone markets of Jaipur and Delhi that the idea for Tallulah was born. Could you design, make and sell jewellery using rough, uncut unpolished stones?
I had no idea, but knew I wanted to try. You don't have to dig too far to find some amazing stones in their rough form in Jaipur. The vast majority of stone cutting  in the world takes place there. Over the last six years I have seen Blue Sapphires arrive from Africa, looking brown and dirty, through to lumps of Black Tourmaline that look like shiny lumps of coal. These have obviously had the dirt removed!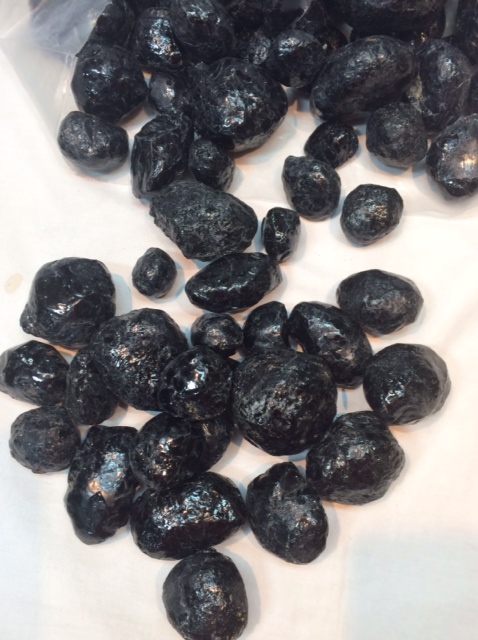 These pieces of black tourmaline were cut to produce Tallulah earrings.
Tallulah Stud Earrings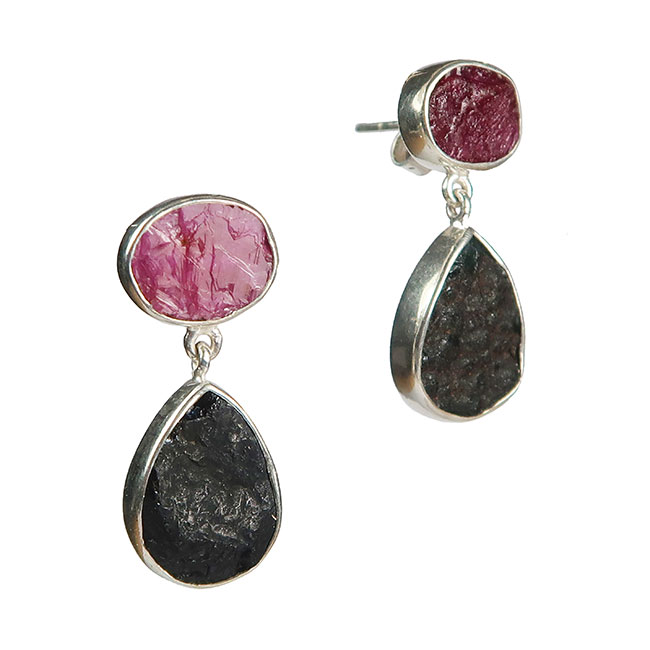 There is more info on tourmaline stones and how I have used these stones to build Tara, one of my latest collections.
Here's a sneak peak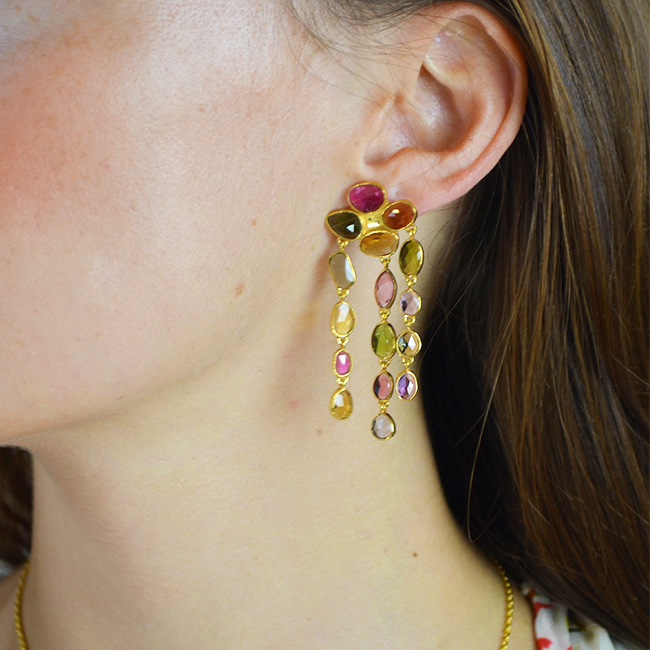 I make no apology for still producing these lovely two drop stud earrings in Ruby and Aquamarine; these classic earrings have featured in both The Telegraph and The Times. Still incredibly popular!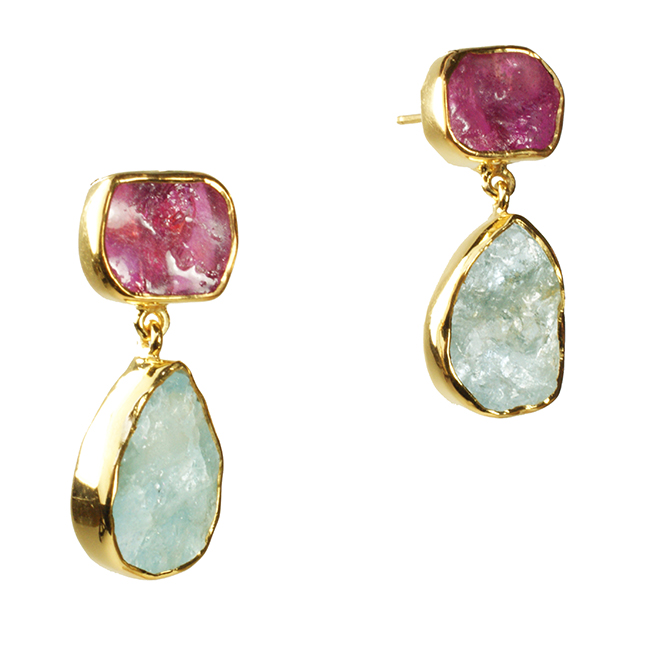 Nearly ten years later I am very happy to report that jewellery can be designed around rough cut gems and that people want to buy it. Some of my stockists, who have been with me since the beginning, still want to know what's new for Tallulah this season? Over the years Tallulah has evolved; the earrings have changed shape and we have moved from the large Tallulah necklace to the Tallulah Collar and Drop Necklace. The Tallulah Pendant necklace was dropped all together, but keep reading to see how we re-worked this idea. The one piece that hasn't changed is the Tallulah Cocktail Ring, this is as popular now as it was 10 years ago. A truly classic design that is simple and allows the stone to do the talking.
Tallulah cuff with Morganite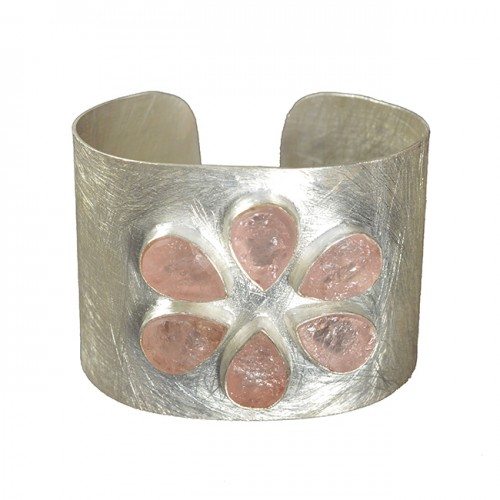 Each stone for Tallulah is hand cut and the size of the stone, to a certain degree, is determined by the stone. Apatite, for example, only seems to yield smaller stones. This makes it ideal for the earrings and drop necklaces, but very difficult for the larger Cocktail rings. Although of course Apatite is quite unsuitable for rings because it is such a brittle stone and cracks very easily. Moonstone on the other hand is available in larger pieces and makes the most wonderful rings.
Tallulah Moonstone Ring
This Moonstone Tallulah Ring displays a wonderful example of the 'blue fire' that can be found in this incredible iridescent stone.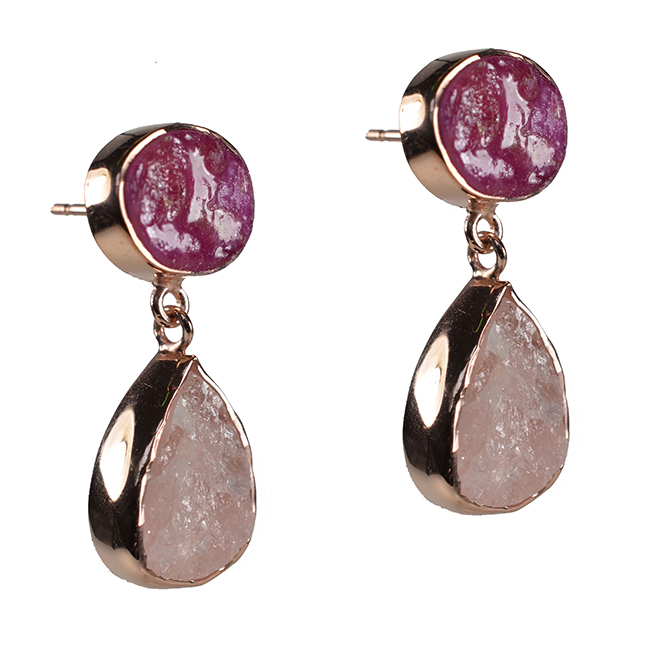 Tallulah earrings featuring Ruby and Morganite in all their rough glory, we have used rose gold vermeil to compliment the wonderful pinks of the stones.
By the very nature of the collection, each piece is unique. Sizes, texture and colour of the stones will vary from piece to piece, making Tallulah a joy to work with.
Introducing the 'new' Tallulah Pendant Necklace. This is where rough organic stones meets faceted. It has been a joy combining the two, and we have had fun playing with all the different colours. Each pendant is a limited edition and we will be adding more stones throughout the year.
Tallulah Flower Pendant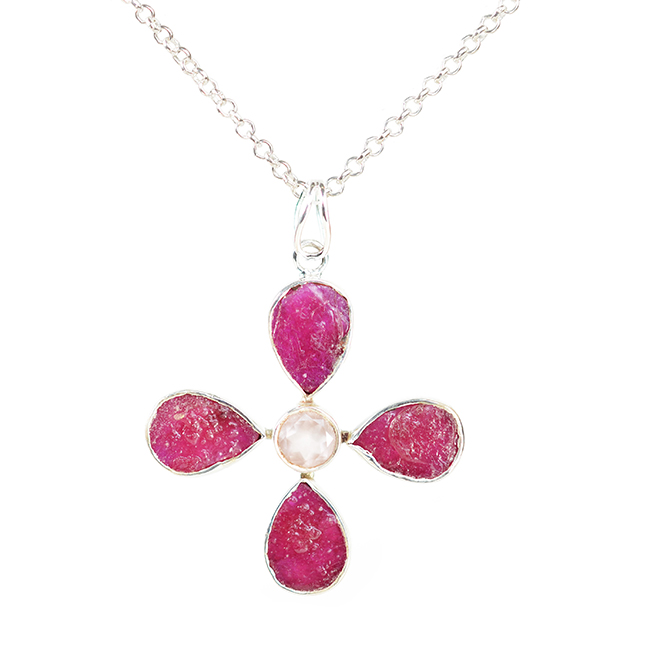 I think it's very fitting that these lovely organic nuggets of semi precious stones are all lovingly handmade. They couldn't possibly be mass produced! 
Why shouldn't men enjoy Tallulah? Oh yes, we now have cufflinks with stunning rough cut stones.
Tallulah Cufflinks Rose Quartz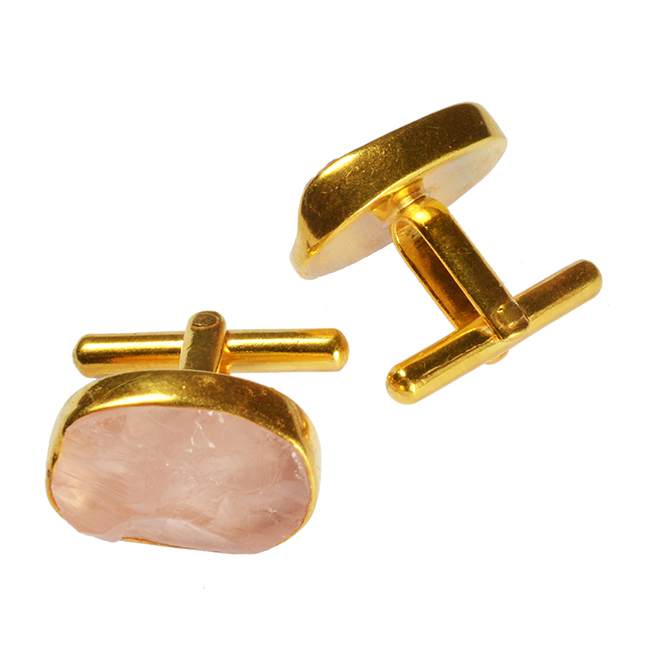 If you enjoyed reading about designing Tallulah and my love for rough cut gemstones, you might like my piece on Tourmaline Jewellery. You can follow my journey here.
Sushilla X