Aquamarine  Stone of the Sea
The modern name for Aquamarine is derived from the Latin 'aqua marina' or water of the sea. It is easy to see why this semi-precious stone is so associated with the ocean, its blue-green depths and beautiful refraction of light are very like the movement of water. An old sailors tale describes this gem as the treasure of the mermaids and this image fits well with its delicate aquatic beauty. Favoured by the Romans as an important talisman and by mystics of the middle ages as a means of seeing the future, Aquamarine has an intriguing past and due to its continued popularity, a very bright future. We've delved under the skin of this stunning semi-precious jewel to learn more about the definitive water stone and help you understand the hidden depths of Aquamarine.
What is Aquamarine?
Aquamarine is a semi-precious gem stone and member of the Beryl family of minerals also responsible for producing precious Emeralds. Aquamarine is formed when iron impurities within the Beryl react to form the distinctive blue-green colour. Ranging from deep blue to lightest aqua the colour and clarity of Aquamarine can vary amongst different stones. Although found in a number of locations around the world by far the most spectacular Aquamarine stones come from Brazil where in 1910 a huge single gem was found to weigh over 100kg and contain over 100,000 carats! The 'Dom Pedro' Aquamarine housed in the Smithsonian museum is the largest cut gem of this type and a beautiful example of the stone displayed to stunning effect.
History of Aquamarine
Aquamarine was a fashionable stone for use in Roman jewellery and talismans, they believed if a frog was carved into the gem it could resolve quarrels and disagreements. It was also a popular gift for new brides as it was thought to capture and promote youthful love. Both the Romans and Ancient Greeks thought that Aquamarine had protective qualities for journeys across water. Images of the Greek God of the sea Poseidon and the Roman god Neptune are often found carved into Aquamarine. During the middle ages Aquamarine was associated with visions of the future and it was carved into crystal balls for this purpose, it was also one of several gemstones thought to be effective in healing against poison.
Aquamarine Meanings and Healing
Aquamarine today is still held up by followers of crystal healing as a stone which has the power to influence our emotional and physical wellbeing. Whether you accept this approach or not the association of Aquamarine with our physical and spiritual energy is an interesting reflection of our ongoing relationship with significant gemstones, a relationship which has survived since antiquity. Below are some of the most commonly associated uses and meanings connected with Aquamarine today.
Communication – Aquamarine has a strong association with the throat chakra. Chakras are traditional energy points around the body in Buddhist and Hindu lore. It is believed that a balance of these chakras will lead to inner peace and harmony. The throat chakra is associated with communication and expression and it follows that Aquamarine is said to ease the anxiety of public speaking and allow the wearer to express their true feelings.
Resolving Disputes – Just as the Romans believed Aquamarine would settle a quarrel it is still considered a key stone for resolving disagreements today. Whether this is an argument with neighbours or legal dispute the presence of Aquamarine is said to aid speedy and peaceful negotiations. The passing of Aquamarine over paperwork is said to resolve issues of law and contract.
Travel – Aquamarine is still regarded as a protective stone for travellers especially for journeys over water. It is said to offer calm to those with a fear of water and be especially helpful when used in conjunction with long distance journeys.
Calming Energy – Like the placid movement of the water Aquamarine is thought to bring calm and peace to those who are upset, angry or emotionally overwrought. It is useful in periods of uncertainty and change helping to allay fears of the future.
Respiratory Disorders – The physical healing properties of Aquamarine are associated with disorders of the respiratory system and throat and it is thought to be beneficial to conditions like asthma and bronchitis. It is also associated with the regulation of inflammatory conditions.
For more information on healing and Aquamarines, we recommend this site.
Aquamarine and the Zodiac
Aquamarine is the birthstone for March and associated with the water sign Pisces and the planet Neptune. Those born under the sign of Pisces are said to be intuitive, faithful and caring reflecting qualities of calm and balance that are also associated with Aquamarine. More about Aquamarine and the Zodiac can be found here.
Wearing Aquamarine
Aquamarine is a pretty and feminine stone to wear. It makes a wonderful and distinctive choice in an engagement ring due to its associations with a happy marriage. The light and depth of an Aquamarine makes it a beautiful stone to wear in spring and summer. Our new Tara chandelier earrings are a wonderful way to enjoy this stunning gem. Featuring irregular shaped Aquamarines with natural inclusions in a carefully created silver and gold vermeil setting they are a unique way to indulge your love for Aquamarine.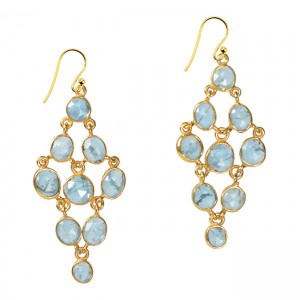 Rough cut Aquamarine is an underused and fabulous way to wear this gem, celebrating the stone in the glory of its unpolished form. Perfect for a statement piece, this rough cut jewel is bound to turn heads. Try our Tallulah cocktail ring in a silver and gold plated setting for real wow factor.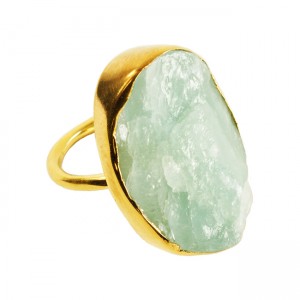 For a subtler shot of Aquamarine go for a simple stud earring or pendant necklace that will take you from the office to post work cocktails with ease. We love these simple Talitha studs for an understated elegance.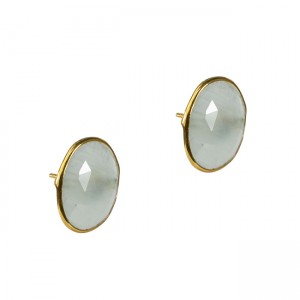 Aquamarine is a fascinating gemstone with a history stretching back to our ancient ancestors, associated with luck, love and peace it is a stone surrounded with positivity. Beautiful, versatile and inspiring this a jewel that everyone should have in their collection.
Explore Sushilla's collection of handmade designer Aquamarine jewellery and find a special piece that will last a lifetime.