As a jewellery designer with a passion for coloured stones; I have always designed Jewellery around and with gemstones in mind. And until now have never really given much thought to the healing properties of stones or the significance of birthstones.
My ethos as a Jewellery designer has always been about the design process, quality and colour of the stones we use. However, it would seem that, to a lot of people, having a piece of jewellery with their birthstone can be of great importance. To be honest, I have been aware of my birthstone for as long as I can remember but isn't one of my favourite stones, so I have always ignored it. For the record it's a yellow/orange topaz, just not my go-to colour I'm afraid!
However, I thought it might be interesting to have a look at when and how the idea of 'birthstones' came about. What I discovered is really quite interesting. It has an ancient history. One has to delve back in time to early civilisations. Both India and Babylon in 3000BC were taking a keen interest in the powers and influences of coloured gem stones.
Gem buyers of these ancient cultures would seek advice from astrologers in the hope that the stones could influence the forces that were identified with the planets in their favour. But it wasn't just the specific gemstone itself that was thought to have the powers but the colour of the gem stone that could unleash the power attributed to each stone. It was these ancient civilisations that linked the ruling planets with their corresponding gems. So the zodiac system we use today can, in part, be attributed to astrologers as far back as 3000BC.
Birthstones, as we know them today, were first listed in 1912 by the American National Association of Jewellers. This month's (February) birthstone is Amethyst , a wonderful purple colour (yes, I like this colour). About this, I know little, but it has been said that Amethyst can protect against heart attacks, natural disasters and accidents. It is also thought to add to one's powers of concentration and can enable a balance in life.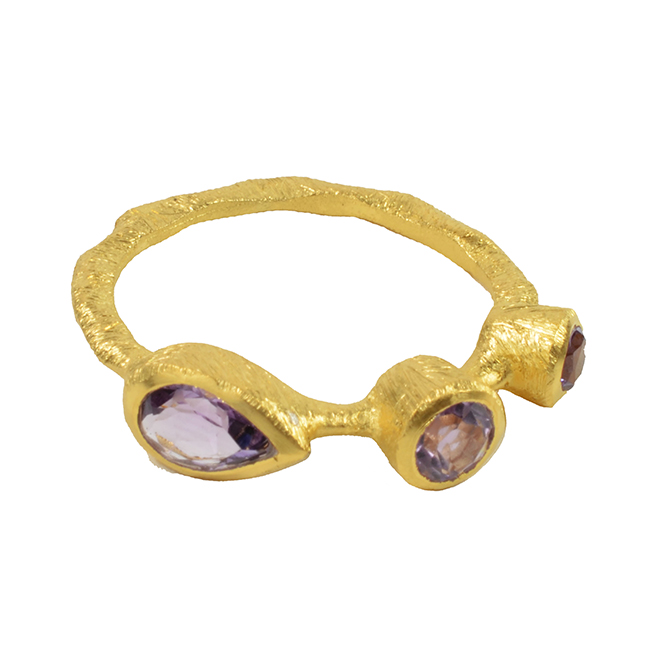 This handmade Julep ring is set with 3 faceted Amethyst stones. Perfect as a present for a February Birthday.
The birthstone for March is Aquamarine, this stone is said to be a calming, soothing and cleansing stone that inspires truth, trust and letting go. Aquamarine is associated with the Throat chakra and can help to overcome the fear of speaking. It is said that it can allow the wearer to be fully aware of their own truths, wisdoms and feelings.
Talitha earrings Aquamarine and Pink Sapphire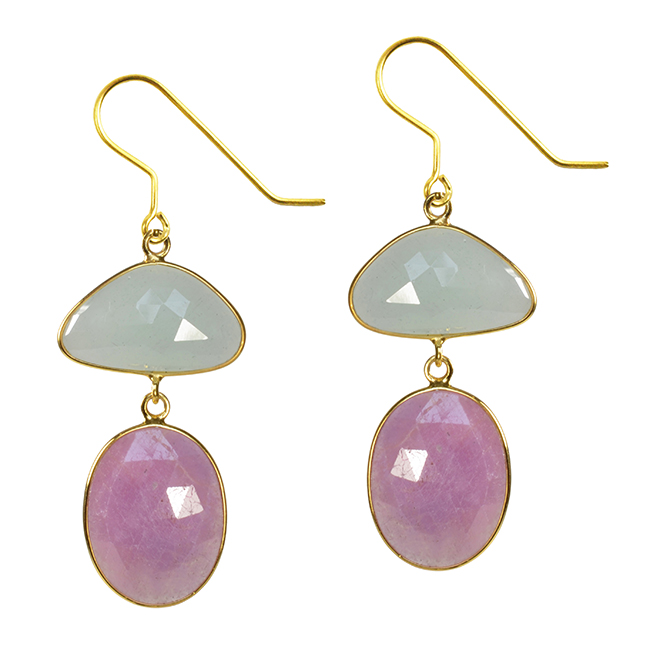 These Talitha Statement Earrings feature wonderful rose cut Aquamarine with Pink Rubies. These would make a very unique and interesting present for a March Birthday.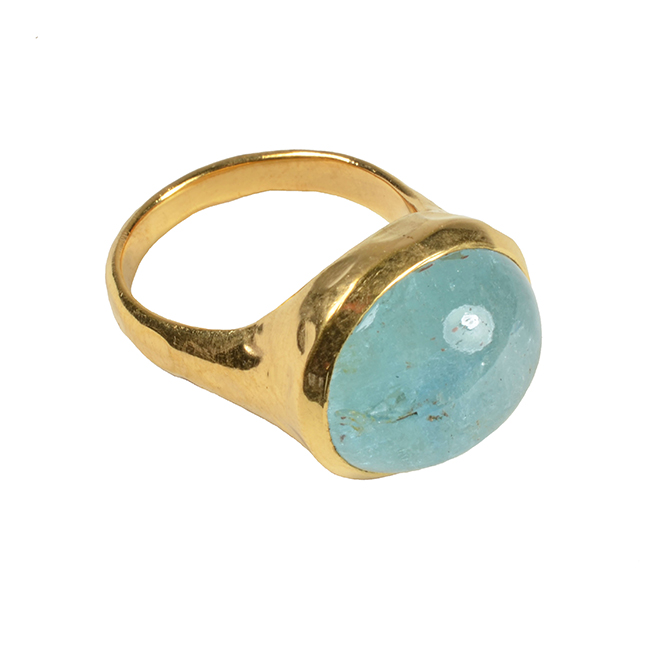 A one of a kind, Cocktail Ring with a large cabochon Aquamarine semi precious stone.
As a stone used in engagement rings, it can help the wearer to live in harmony with their partner and can increase commitment and fidelity.
Tallulah Earrings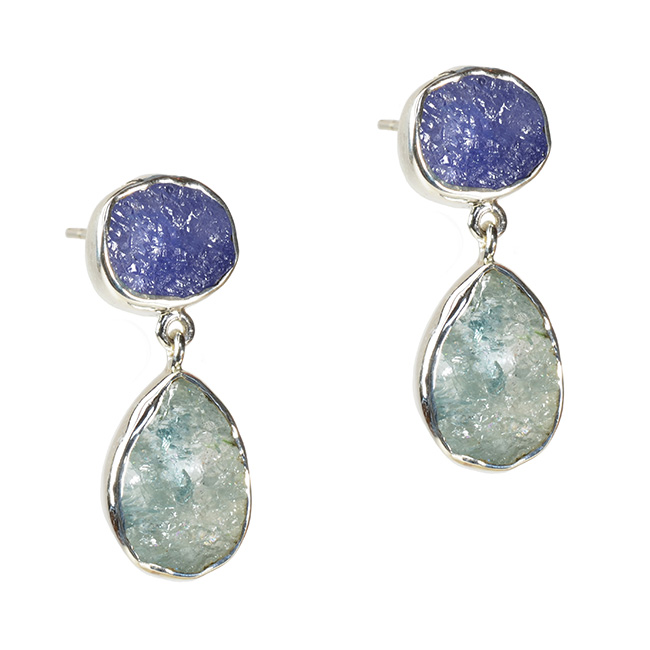 Handmade designer Tallulah Earrings with rough cut Aquamarines, complimented with Tanzanite stones.
As  you can see we have used aquamarine repeatedly in our designer collections Tallulah, Talitha and in some of our cocktail rings. There will be more on birthstones to follow as we progress through the year!