Moonstone Capturing Shades of Lunar. There is something about the luminous depths of Moonstone that is utterly compelling. A popular gem in semi-precious jewellery Moonstone has been captivating human beings for millennia. The Ancient Greeks and Romans believed Moonstone to be the captured light of the moon, a romantic notion that still resonates today. With its muted shades ranging from grey and brown to the lightest pearl it is a very wearable and complementary stone. We think this special stone deserves a closer look, so find out more about Moonstone, its history and uses below.
What is Moonstone?
Moonstone is the name of a group of semi-precious gems from the Feldspar group of stones. Moonstones are characterised by their 'inner glow' which gives them their other worldly feel and is likely what made them so attractive to our ancient ancestors. Found occurring in sites around the world a large number of Moonstones come from Burma, Sri Lanka and India.
Moonstone History
Moonstone has been found used in jewellery going back over 2000 years and the Ancient Romans often depicted Diana, Goddess of the Moon, with the stone. It was thought to bestow love, wisdom and luck on the holder. In Indian Culture a Moonstone was said to be set into the head of the Moon God Chandra and the stone was associated with love and fertility. In eastern cultures the Moonstone itself was thought to contain a spirit due to the unusual movement of the light that it produces. Moonstone enjoyed a resurgence in popularity in the Art Nouveau movement of the 1920's, notably in the work of Rene Lalique.
Meanings and Uses of Moonstone
Clearly the moonstone has been an emotive gemstone for thousands of years, but what does that mean for today's wearer? Understanding the deeper meaning of the stones we wear can add special significance and feeling to the jewellery we choose for ourselves and others.
Love and Fertility
Moonstone has been used across cultures and across time as a symbol of love. Bringing hope to those searching for love or cementing love for a current couple it is said to be especially potent when worn around the full moon. Moonstone has also been linked to the harmonising of a woman's natural cycle to promote fertility, this links with Diana, Roman Goddess of childbirth and women. Why not give this stone as a special wedding gift to a bride to offer luck for the relationship ahead? This delicate Tallulah necklace in Rose Gold and Moonstone is one of our favourites.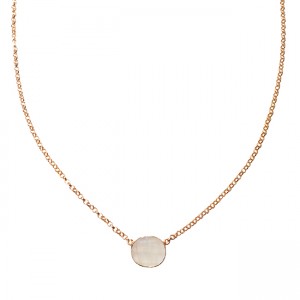 Travelling
Moonstone has long been used as an amulet for travellers especially those travelling through the night and under the light of the moon. Moonstone makes a wonderful gift for a person embarking on a long ­journey. These distinctive Nikita Moonstone necklace make a special and unique present.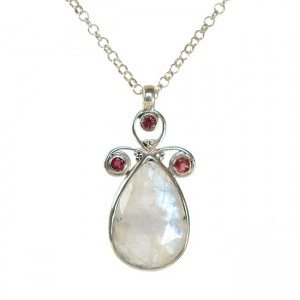 Emotional Balance­­­
Moonstone is associated with calming and balancing the emotions of the wearer. It is said to offer respite from strong outburst of emotion and offer a sense of restfulness. Choose a piece of Moonstone jewellery for those days when composure is key. We think these discreet Talitha Moonstone studs create a perfectly understated elegance.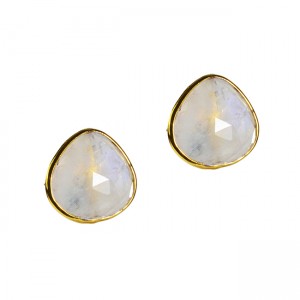 Explore our wide collection of beautiful Moonstone designer jewellery and choose a distinctive piece of lunar loveliness today.