Travels in Rajasthan with Sushilla-Udaipur.
My weekend to Udaipur, very nearly didn't happen. I had a weekend booked in my mind, but work wasn't panning out the way I had planned. Nothing new there, this is India, after all. So the trip to Udaipur was all booked very last minute. This resulted in the trains I wanted to take there and back being fully booked. The journey by train is around 7 to 8 hours, and is 400 km from Jaipur. I would have loved to take the overnight sleeper train, but this wasn't possible, so instead took a train leaving Jaipur at 6am arriving 1.30pm. Now I can't lie to you, the only downside for me and trains in India is being a woman. The loos aren't great, but maybe that's just me! If you are more organised than me, book a sleeper.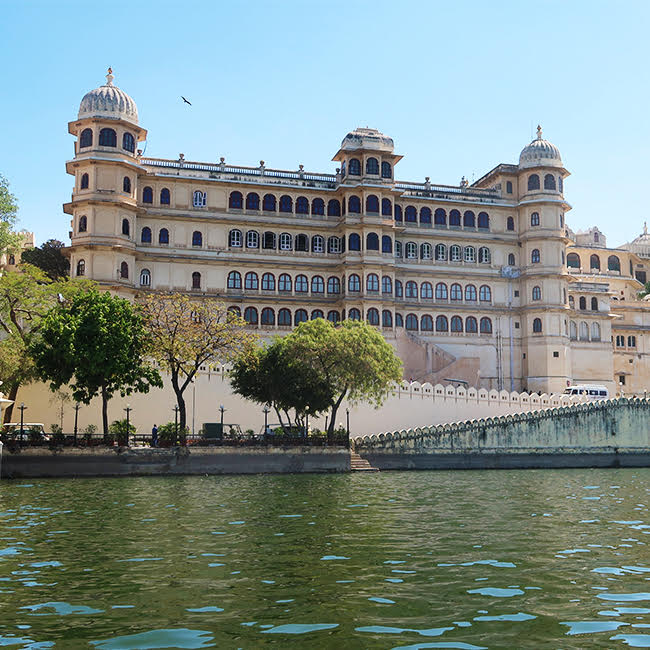 The Lake Palace taken from the Lake
I spent a wonderful afternoon exploring the Lake Palace Museum. At this point I should explain, I find wandering around museums and galleries quite exhausting, usually! This one, however was up there with Topkapi in Istanbul, I should have been tired after an early start etc, but was totally mesmerised by the beauty of the place. I wandered from rooms that were covered in decorative glass work through pretty courtyards to rooms hand-painted from floor to ceiling.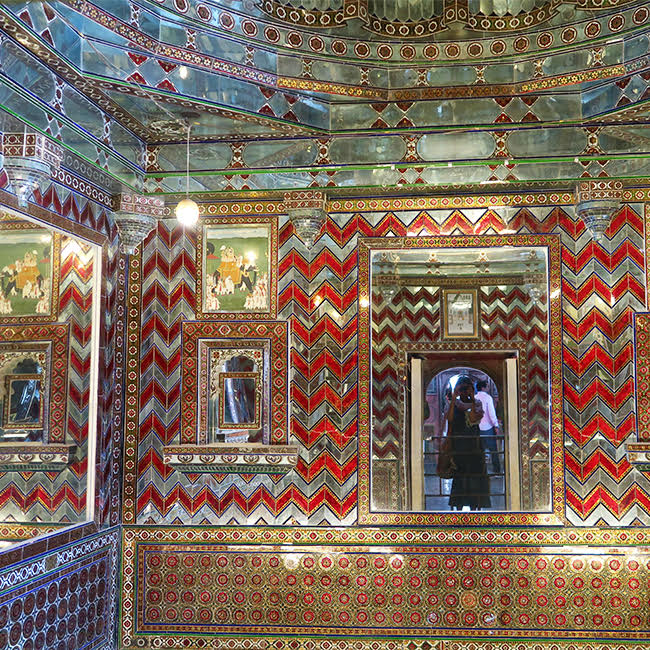 Just one of the rooms featuring decorative mirror work.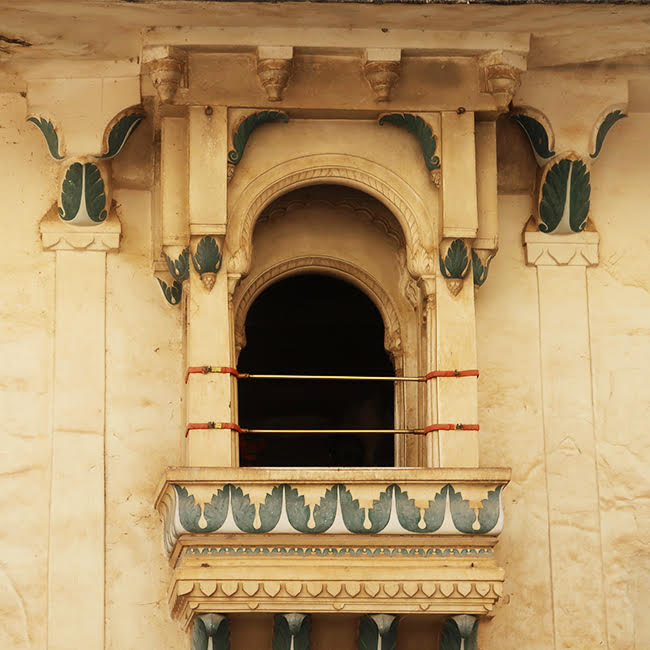 Architectural detail taken from one of the courtyards.
A visual feast, that I can not recommend highly enough.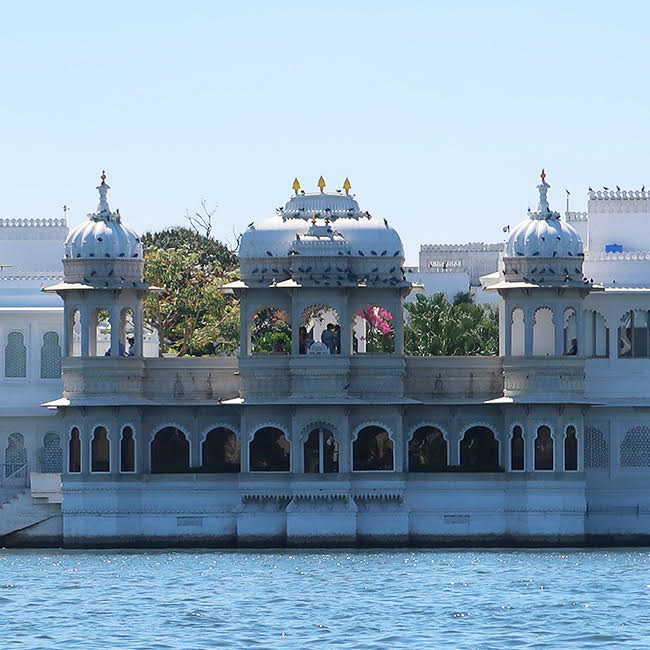 The following morning I took to the Lake to get a closer look at the buildings on and around this lake.
Where to Stay
Now there are some seriously gorgeous hotels in Udaipur, most either 'in' the lake or on the banks of the lake. Situated on the lake is Taj Lake Palace, this palace was built in 1746 as the 'summer' place and converted into a hotel in 1963.
We than sailed past the Oberoi Udaivilas hotel, this I have to say, didn't do it for me. Yes a great position, but a newly built hotel without the character
There is also the Leela Palace, all rooms and suites here look on to the lake. As we passed this hotel, I did think that this looked the most romantic.
But I'm now going to share with you my 'find'. This is assuming you don't want to spend around £350 a night at one of these luxury hotels! I stayed at Little Garden Guest House. If you are looking for a pretty, clean room in a great location, this could be it. You would be paying approx £35 a night. I chatted with fellow guest at breakfast and everyone seemed very happy with their accommodation. It is family run and nothing seemed too much trouble. For more info on my stay here, you can check out my Instagram posts.
Getting around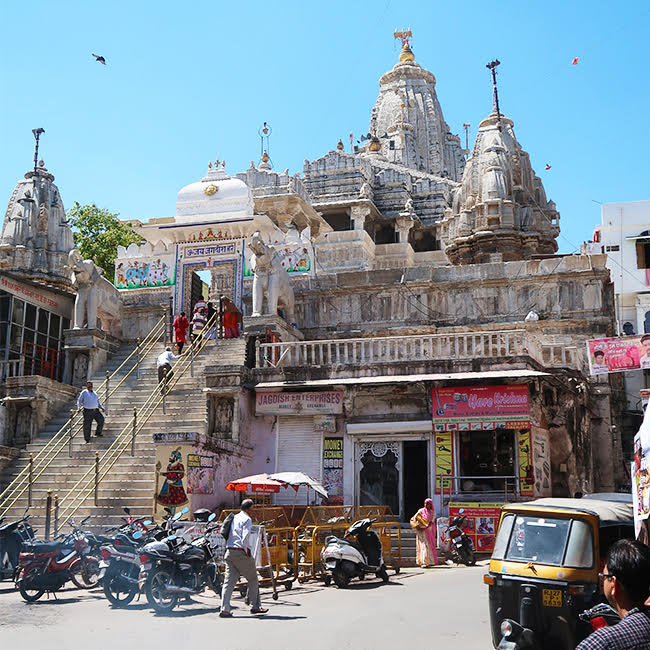 This may not be a great picture, but a large and very useful landmark.
From here you take a right to the City Palace, a very short 5 minute walk. And if you take a left you will come to the Lake. With your back to the building, take a second right and 5 minutes down the road you will see a sign for Little Garden Guest House.
Shopping here is great, a bit like Pushkar, you will find fabric, jewellery and leather goods. There is less traffic than Jaipur so much easier to get around.
I couldn't leave this post without adding an image of a wise looking monkey.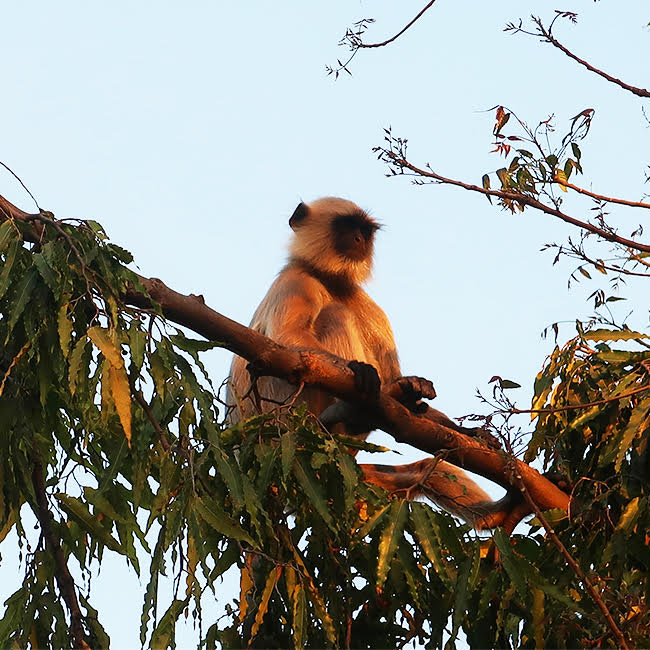 There are two things I love talking about, jewellery and travel, so if you have any questions, feel free to contact me sushilla@sushilla.co.uk
I am now waiting patiently, not, for pictures of my new pieces to arrive, so that I can share them with you. If you would like to be one of the first to know when our new pieces land, sign up to our newsletter.