Sharing my passion for tourmaline jewellery.
My love for Tourmaline as a stone, began from a very early age. My mother has a wonderful pink tourmaline set in a simple gold band. It has always been my favourite piece of jewellery in her collection. As a child, it was probably because I liked all things pink. It was only years later, when I was looking for gemstones for my designs, that I discovered Tourmalines came in every colour imaginable. Tourmaline really is the 'rainbow' stone.
The price of Tourmaline depends, to a certain extent, on the colour. Indicolite Tourmaline, pale blue through to deep blue, is one of the most valuable, simply because it is so rare. The Paraiba Tourmaline is a wonderful neon blue/green colour, but unfortunately a very pricey stone. Another expensive Tourmaline stone is the Rubellite, a stunning deep pink/red colour. The price of these gemstones, like any other commodity, is influenced by both availability and fashion.
In order to satisfy my love of these wonderful stones, I have built a collection around using smaller Tourmaline stones. Tara was designed with these lovely colourful stones in mind.
Each stone on this necklace is a faceted Tourmaline. There are pinks of varying shades and greens – from the very pale through to deep forest green. We have even managed to include a tri-coloured Watermelon tourmaline, the pretty pink/green stone. Each stone is a different shape and size, so the design of this 'bib' necklace follows the flow of the stones.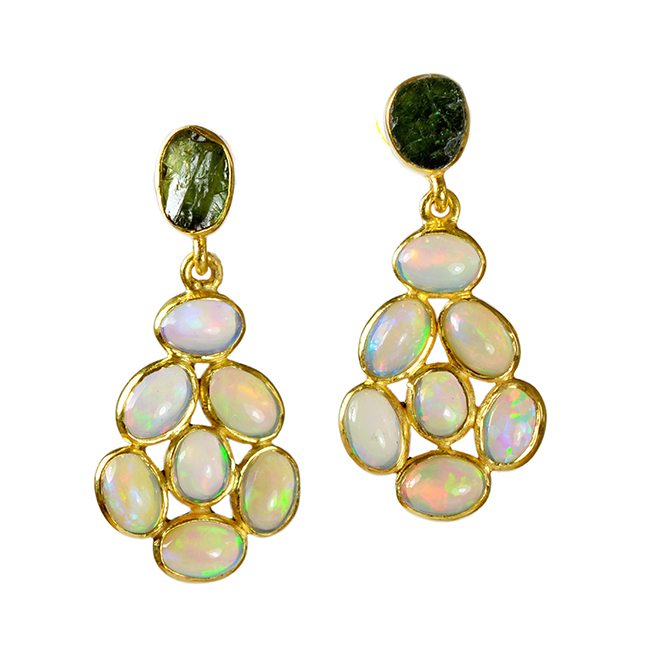 Tara Flower Stud Opal with Green Tourmaline.
This is another of my favourite pieces; here we have used the Green Tourmaline to add contrast to the beautiful opal gemstones. The Green Tourmalines used here are rough, but gently polished stones, whereas the Opals are pebble smooth cabochons.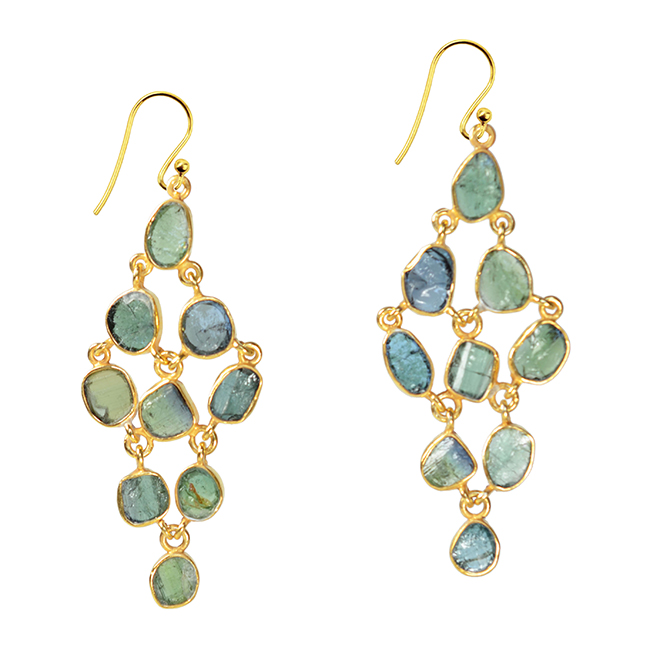 Tara Chandelier Earrings Green / Blue Tourmalines.
I hunted through a pile of blue/green Tourmalines to find the stones for these earrings, and managed to include some of the precious blue Tourmalines. Although we had the overall 'look' of the Chandelier earrings in mind, while selecting these stones, we were happy for the size and shape of the gems to determine the finished piece.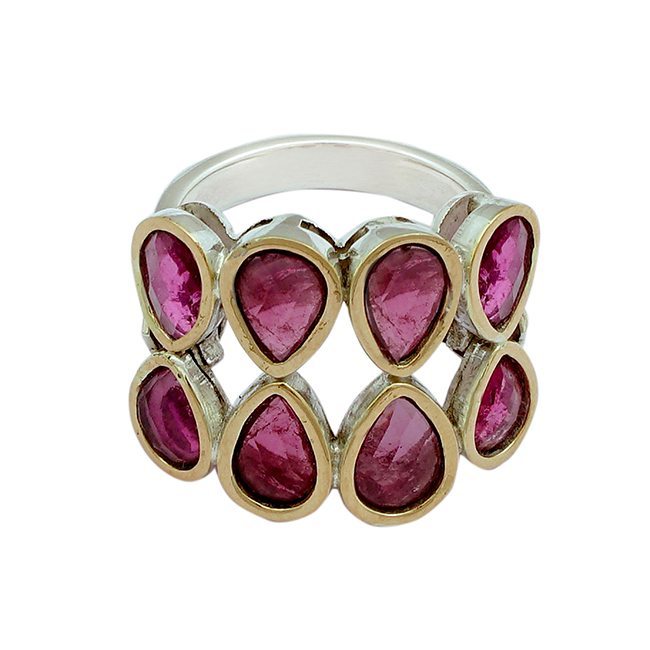 This is a stunning cocktail ring featuring 8 faceted Pink Tourmaline, we have set them in silver and surrounded the stones with 18ct gold.
Tourmaline is the birthstone for October, and with the wide range of colours within this stone, there should be a colour to suit everyone.
Thank you for letting me share my passion for Tourmaline jewellery with you!
And of course if you have any questions about our jewellery, do get in touch, we always like to hear from our customers.