Tourmaline Nature's Rainbow Coloured Gem. Tourmaline may not be the most well known of the semi-precious gemstones but it is certainly one of the most fascinating. Naturally produced in a fantastical array of rainbow colours from deep black to subtle pinks and azure blue this is an endlessly versatile and beautiful stone. Sought out by scientists for its curious pyroelectric properties, prized by the Chinese for its beauty and mystics for it supposed other worldly powers, Tourmaline is a stone with a serious story to tell. We've dived in to the beautiful rainbow that is Tourmaline to bring you a closer look at this special stone.
What is Tourmaline?
Tourmaline is a complex crystalline structure made up of a family of similar but differing chemical combinations that create its varied colours. It has the most complex chemical structure of any semi-precious stone. It is usually found in granite and has been discovered at locations around the world including, Brazil, Nigeria, Russia and Afghanistan. Different areas specialise in specific colours of Tourmaline. Tourmaline's name comes from the Sri Lankan 'Turmali' a generic word for different coloured gemstones probably due to the exceptionally varied nature of Tourmaline!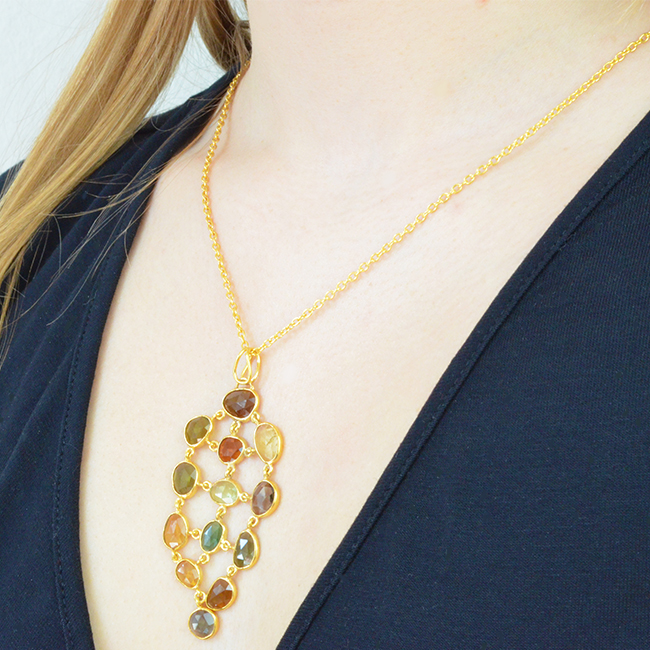 Tourmaline Pendant Necklace
Throughout history Tourmaline has been confused with various other minerals due to the varying hues found within it. It was not until the 19th century that scientists defined it as a distinct gemstone in its own right. Early interest in Tourmaline was sparked by a large discovery in the US in the late 19th century and pink tourmaline became much sought after in China where it was a favourite stone of Empress Tz'u His for jewellery and carving. Scientists became interested in the electric charge created by Tourmaline when rubbed or heated and it was used by Alchemists in the search for the Philosophers Stone.
Meaning and Uses of Tourmaline
Since its discovery Tourmaline has been utilised all over the world for its supposed mystical properties and in the world of crystal healing the different coloured Tourmaline stones have defined meanings and uses. It has been used in Aboriginal, Native American and African culture as a healing stone. Discover some of the properties associated with different variations of Tourmaline below.
Pink Tourmaline is considered to be a stone of love and emotional harmony. It is said to be useful in calming problems in children and soothing problems of anxiety and depression. It is connected with the heart chakra and linked to protection from diseases of the chest. These pretty pink and green chandelier earrings from our Tara collection celebrate the femininity of tourmaline.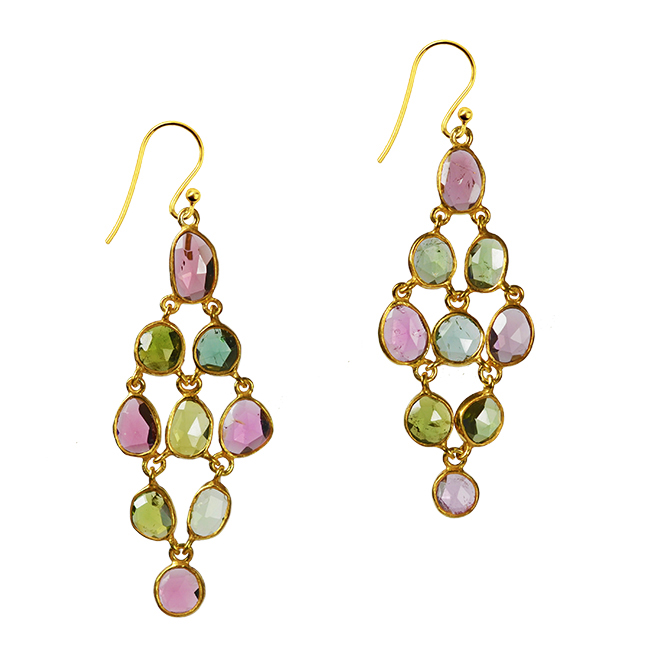 Black Tourmaline is the most common form of Tourmaline and is thought to have been used by ancient magicians. It is said to be protective against negative psychic and emotional energy and create a closer connection to the earth. This Tallulah statement cuff shows the strength of black Tourmaline.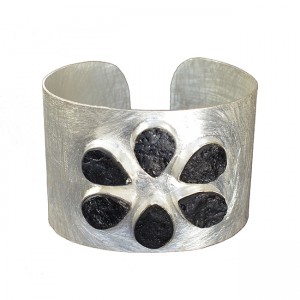 Blue Tourmaline is considered to be linked to water, a stone of calm and peace associated with dreaming and rest. It is linked to the throat chakra and with ease of communication and expression.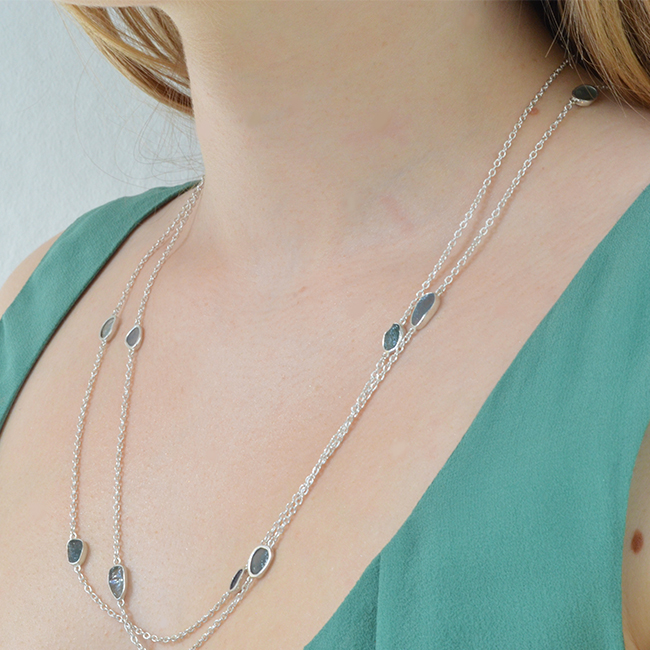 Tara necklace with blue and green tourmalines.
All our tourmaline jewellery can be seen here.