Valentines Day is almost upon us, I have already had a couple of enquiries from chaps wanting advice and help on choosing a present for the women in their lives!
This year I decided to do a little research into the background of Valentines Day.
It would seem that the origins of Valentines Day dates back to the pre Christian era. In ancient Rome 13, 14 and 15th of February were celebrated as Luperica, a pagan festival, connected to fertiliy. This seems to be the very early basis for a celebration of love on the 14th of February.
There are a number of myths surrounding Saint Valentine. A popular myth, and one of my favorites, is that Saint Valentine was imprisoned for performing weddings for soldiers who were forbidden to marry and for ministering to Christians who were persecuted under the Roman Empire. The legend goes, that during his imprisonment he healed the daughter of his jailer, Asterius. The story continues that before his execution he wrote her a letter signed 'Your Valentine'.
Hence the expression we use today 'from your Valentine'.
The first official Saint Valentines Day was declared on the 14th February by Pope Galasius in 496, in memory of this 3rd Century martyred preist in Rome.
There are numerous examples throughout history of how the day we know as Valentines day, has been seen as the day of love and romance.
One of the early referneces to Valentines day in Literature is Geoffrey Chaucer's poem to 'Parlement of Foules' 1382, the poem was to honour the first anniversary of the engagement of king Richard the 2nd of England to Anne of Bohemia.
Shakespeare references Valentines day in Hamlet, Ophelia says 'Tomorrow is Valentines Day…..to be you Valentine"
Tom Chives in The Telegraph gives a detailed history of Valentines day, from the pre Christian era through to todays commercialism of this day of love. You can read more here.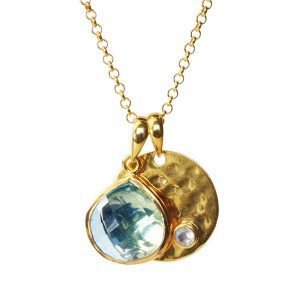 So back to 2015, a lovely gentleman contacted me last week to ask me if I thought our Candy Pear earrings were really heart shaped, and would they make a wonderful Valentines Day present for his wife. Well yes, they could certainly be interrupted as having a heart shape I replied. It would seem this chap wanted to buy his wife something special this year to celebrate not only Valentines day but also the birth of their first child. How very romantic, and I am of course thrilled he chose a piece of my Jewellery to celebrate this wonderful occasion.
The Candy Pear Collection of 'heart' shaped jewels can be viewed here.
We have selected an edit of beautiful designer jewellery for Valentines Day.